October 2023
Hit the road right now with a Certified Pre-Owned Revology Mustang or Shelby GT 
There is a neat solution for anyone keen to skip the six-month wait to take delivery of a new Revology Mustang or Shelby GT model.
The answer is Revology Cars' Certified Pre-Owned (CPO) program. Like CPO plans from major automakers, Revology's CPO program goes to great lengths to put buyers at ease.
The Revology CPO process involves a comprehensive inspection, vehicle reconditioning, and certain specification upgrades. Beyond these measures, a CPO Mustang or Shelby GT model from Revology includes an extra one-year bumper to bumper warranty, which is added to any remaining factory warranty. 
"A CPO Revology Mustang or Shelby GT model is a great way to experience the satisfaction of owning the car without the wait," says Yoshi Amano, Revology's marketing and sales director. "While the classic auto auctions and most classic car dealers do not offer a warranty, with Revology you have the comfort of knowing that your car comes with comprehensive warranty." 
The selection of CPO models available from Revology changes frequently. Presently, a selection of interesting models in unique color and trim combinations are available.
Take this 1967 Shelby GT500 for example. Car #125 is a unique GT500 which combines Bentley Meteor Blue Metallic paint with an interior finished in luxurious Ferrari Cuoio leather. Outside the Silver Frost Metallic LeMans stripes blend with silver Forgeline CZ3 wheels and grey anodized brake calipers. Power comes from a supercharged 710hp Ford/Roush 5.0L 'Coyote' V8, paired with a six-speed manual transmission.
In the case of car #122, this '67 Shelby GT500 is finished in Porsche Jet Black Metallic paint, with Alpine White LeMans stripes. Inside the GT500 sports a black Porsche Nappa leather trimmed interior with Alcantara headliner. As with all GT500s, this Shelby is powered by the supercharged 710hp 5.0L V8. Adding a modern touch to the car's classic looking paint scheme are red painted brake calipers.
Sporting a more European appearance, car #149 is another '67 GT500. This Shelby is finished in Porsche Carrera White Metallic paint, with Silver Frost LeMans stripes. The distinctive look is topped off with Shelby VN427 polished wheels. Inside the beautiful cabin is trimmed in Burgundy Nappa leather interior. Under the hood sits a supercharged 710hp 5.0L V8 engine teamed with a 10-speed automatic transmission.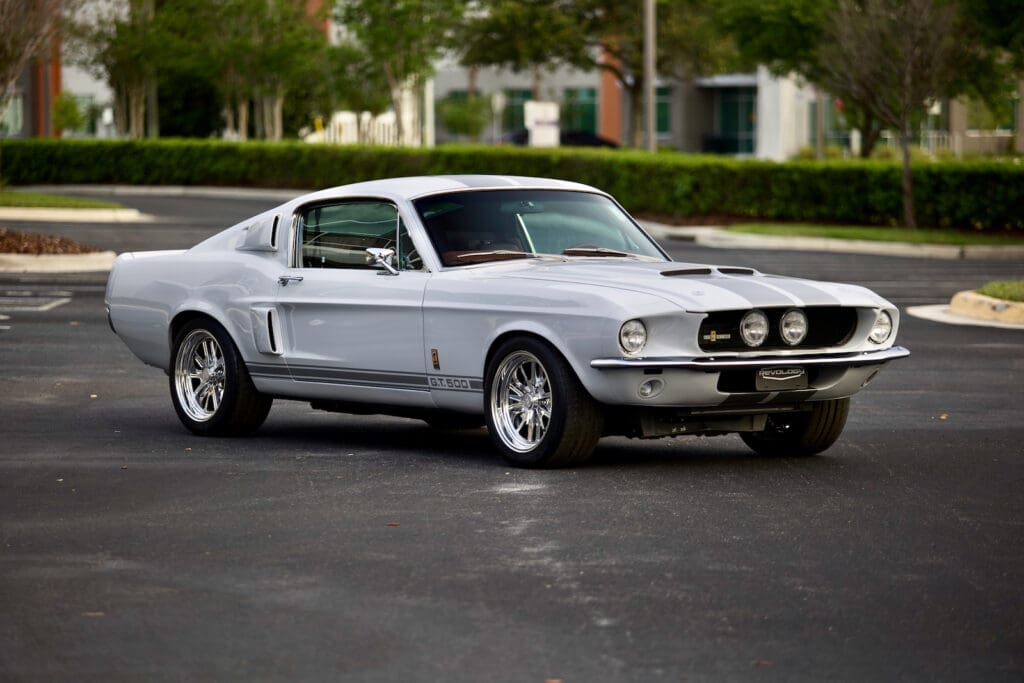 A 1968 Mustang GT 2+2 Fastback, car #116, is painted in Dark Green Metallic paint, a slightly darker tone than Highland Green. Inside the cabin is finished in black leatherette. This Mustang Fastback rides on Torq Thrust wheels and is powered by the 460hp 'Coyote' V8 engine, combined with a 10-speed automatic transmission. One unusual aspect of car #116 is its fitment with an optional aluminum front subframe and external oil cooler, normally found in the GT500. These features allow the engine to be located lower in the chassis, thus lowering the center of gravity for improved handling.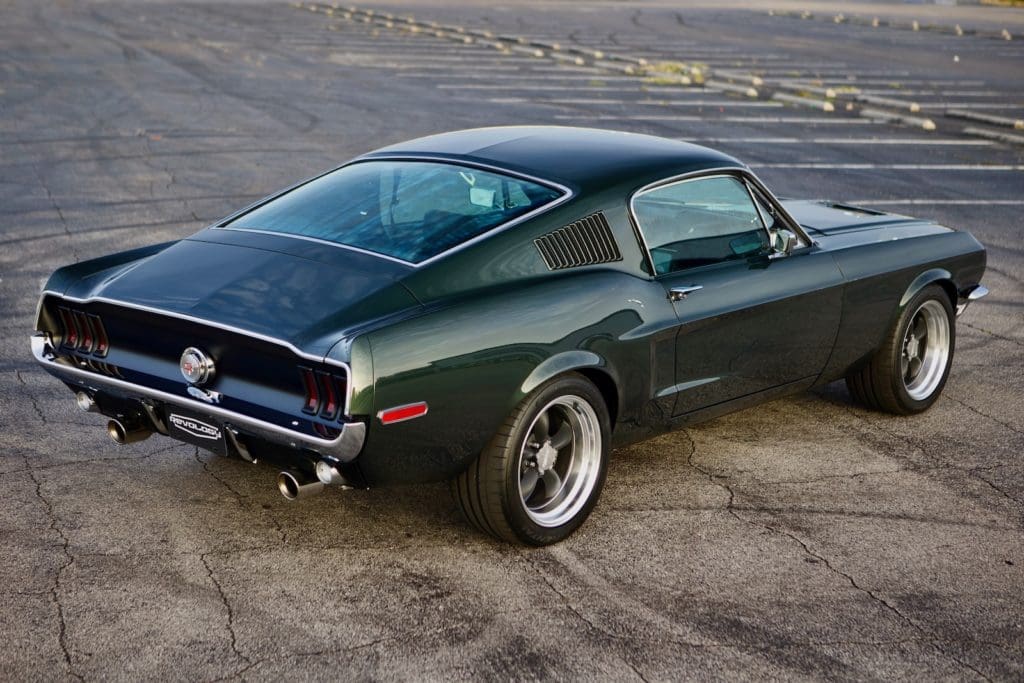 For more information about Revology's currently available CPO vehicles, please go to: https://revologycars.com/certified-pre-owned/